Massages ~ Nutrition

Andreas Thierstein
+41 78 941 74 73 ayurveda.atelier@proton.me
Kleinhüningerstrasse 205 4057 Basel

︎︎︎︎︎︎︎︎︎



Ayurvedic treatments can help us strengthen our health and well-being. They encourage self-awareness, relaxation and resilience. They can support us in the treatment of various symptoms and illnesses, on a holistic and individual level.
Information

The practice is located in a martial arts studio at Quartierzentrum Klybeck-Kleinhüningen (streetcar 8 or bus 36, stop Kleinhüningen).

I use high quality organic oils for the treatments. A shower is available. However, I recommend leaving the oil on for 1-2 hours after the massage. Please do not wear delicate textiles like silk etc.

I can be reached by phone or mail, to make an appointment or if you have any questions. I speak German, English, French and a little Italian.

Please cancel at least 24 hours before the appointment, otherwise I will have to charge for the agreed treatment.

Prices
60 min: 130 CHF
90 min: 195 CHF
I accept payment in cash or with Twint after the treatment.

Many health insurances contribute to the costs through a supplementary insurance, please clarify this in advance. Without supplementary insurance I offer reduced rates on request for students, people with disabilities and Kulturlegi beneficiaries.



Treatments


***
Abhyanga - the classic
60'/90'

The Abhyanga is a full body massage with warm oil. It is balancing and calming. This treatment activates lymphatic flow, detoxifies and stimulates the immune system. It helps to relieve tension and improves skin elasticity.
For 90' you also receive a focused treatment on a body part of your choice and a deep foot, head and face massage.


***
Kairali Marma - the sporty one
60'/90'

The Kairali Marma is a full body massage with warm oil. This is an intensive treatment on a body part of your choice and activation of the Marma (trigger) points. The treatment includes elements of mobilizing and stretching. It strengthens the immune system and helps the body to perform efficiently.


***
Shiro Pada - head and feet
30'/60'

Shiro Pada is an intensive head/neck/back and foot reflexology massage with warm oil or with aroma oil. I offer an extra focus on a body part of your choice. It is ideal for releasing tension and soothing acute headaches.


***
Pinda Sveda - herbal pouches
60'/90'

Pinda Sveda is a full body massage and treatment with herbal sachets warmed in oil. It promotes blood circulation and detoxification. It has a vitalizing, relaxing and skin tightening effect. For 90' you also receive a focused treatment on a body part of your choice and a deep foot, head and face massage.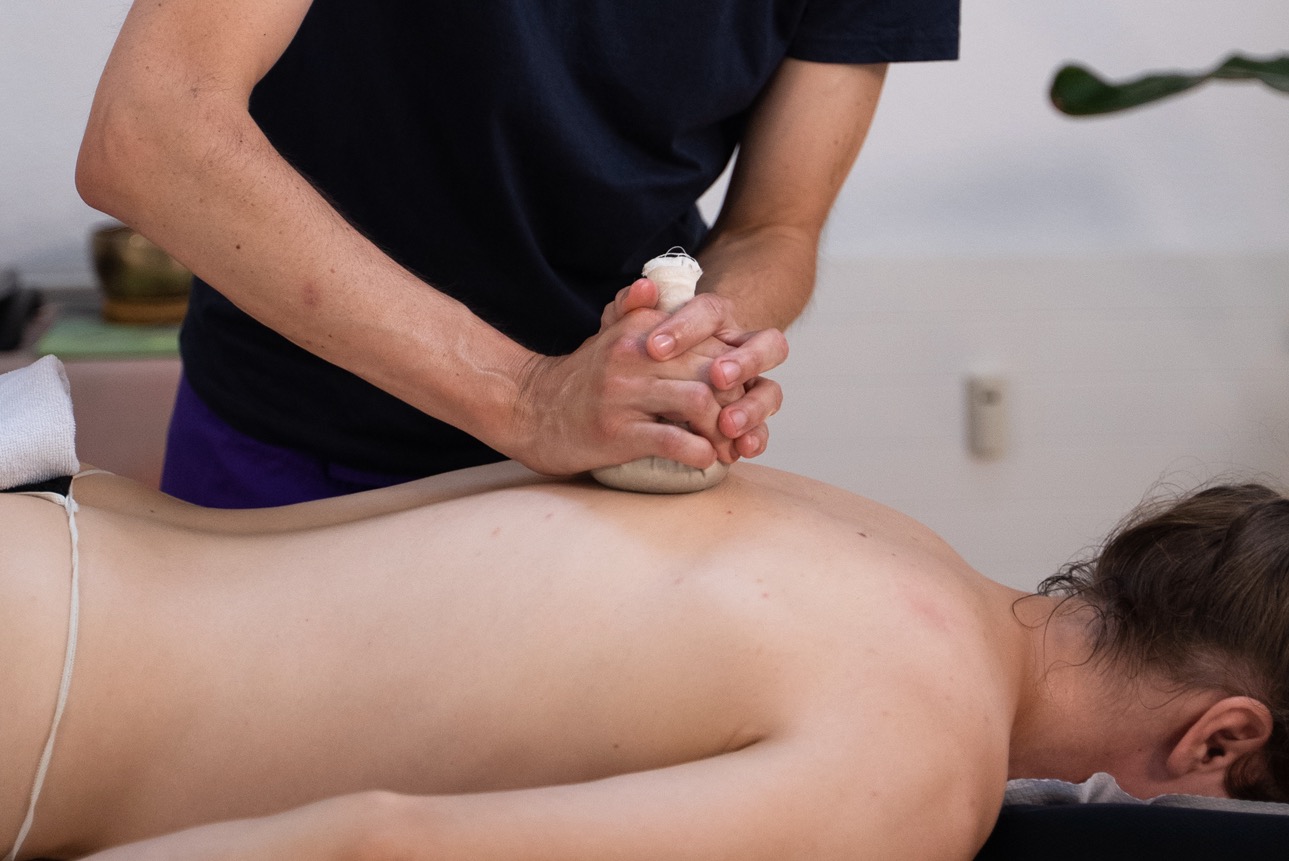 ***
Shirodhara - forehead oil pouring
90'

Relaxing full body massage (Abhyanga) followed by pouring medicinal herbal oil on to the forehead. It is highly recommended for neurovegetative disorders and stress symptoms. It has a nourishing effect on the hair and scalp.


***
Thalasso - body wrap
60'/90'

Thalasso is a herbal salt peeling or raw silk glove massage. Followed by a wrap with warm mud or algae paste and a foot massage. For 60' this is followed by a head & neck massage, for 90' the treatment is followed by a full body massage with aroma oil. Thalasso has a detoxifying effect, it strengthens the connective tissue as well as nourishing and toning the skin. This treatment is helpful for rheumatic complaints and can support weight reduction.


***
Mama - before and after birth
60'

This treatment has a calming effect on the nervous system and a stimulating effect on the lymphatic and immune systems. I offer a treatment in the pelvic area that promotes movement. The mama treatment also helps in the regeneration of the skin in the abdominal area. It can be taken from the 3rd month of pregnancy and/or from the 10th day after birth.


***
Bonbon - nutritional counseling
60' + 60' (+ more as needed)

In this treatment I identify your nutritional habits and life circumstances as well as your constitutional type (eg. Dosha). Together we create a diet plan and an Ayurvedic daily routine. I also give recommendations and recipes to try out and offer supervision and evaluation of any dietary adjustments, this is offered upon request via Skype or Zoom.


Portrait
I received my training as a certified Ayurveda therapist at the International School of Ayurveda at Kientalerhof in the Bernese Oberland. I have been working independently in Basel since 2022. From 2022-23 I was employed at the Stadtbad Zurich.
I found Ayurveda through my interests in music, yoga and Indian cuisine. As a teenager and young adult, classical western and Indian music were the most important things in my life. After training as a primary school teacher, I studied the flute in Biel and Bern. I subsequently completed a Foundation course at the School of Design in Biel, this opened the world of fine arts and performance art to me. For several years I was involved in music and theatre as a member of the
Collectif barbare
. During this time I also started practicing yoga.
After an artist residency in Bruxelles, I studied art in Basel. The following artist residency in Solf (Finland) contributed to the founding of the art collective
Mein Verein
. I was involved with subsequent collaborations in the duos DONAU and with the pianist
Lena Girard
. I currently play improvised music in the artist duo
Hammer Band
.
Thank you ♡


Jan Bachmann

- website, illustration


Raphael Stucky

- video, photos


Ned Milligan

– music


Zoë Dowlen

- translation